Moderators: The Ministry, Guru's
Red Arrows

Posts: 7083
Joined: 14 Sep 2011, 03:46
Location: Central Victorian Goldfields, Australia
Contact:
Needs some pigeon food?

And Ben,
That first shot is a ripper, my favourite of the three.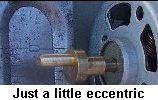 Cheers, Mike.
http://airspeedsflyingvisit.threadwings ... index.html
I suspect that P3D doesn't like the Dove because I made it with an earlier version of FSDS that allowed polys to compile as 'lines' for FS9...the window surrounds I seem to remember. The Heron was made with FSDS 3, the 'show as lines' feature had been made redundant.
That's my excuse and I'm sticking to it........
ATB,
Derek

'My Auntie Mabel told me I'd make a great soldier, though I don't know how 30 years working in a biscuit factory had qualified her to make that judgement.....' Eddie Nugent
Airborne Signals