Moderators: The Ministry, Guru's
Red Arrows

Posts: 7243
Joined: 14 Sep 2011, 03:46
Location: Central Victorian Goldfields, Australia
Contact:
I wouldn't want to see that in my mirrors.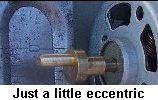 Cheers, Mike.
http://airspeedsflyingvisit.threadwings ... index.html
That's fab. It reminds me of the old Airfix kit that I built back in the 60s I think.
I was also at Brands Hatch GP in 72. Happy days



Brian
east-end school boy : spel wot I like how i like