Moderators: The Ministry, Guru's
Just wanted to know before posting. ;-) Thanks.

Brian
The Ministry
Posts: 2822
Joined: 26 Jun 2004, 08:54
Location: Runway 26 at RAF Tangmere....most Mondays!
No, not really a classic :doho: , but Tim's models are always worth a look.
Its currently available at the SOH downloads, but will be at AVSIM soon, I would imagine.
ATB Trev
Yes, I downloaded Tim's new PC-7 and she's great! I was afraid to post about it here because I wasn't sure if it fell under the "classic" category,

Brian
Concorde

Posts: 1307
Joined: 12 Oct 2007, 19:39
Location: SW Ontario, Canada (ex-pat Brit)
I have it too and it inspired me to attempt my first ever repaint :o .
I spent 12 hours on it yesterday and I have most of it done, just the little bits and bobs and text to do now.

It's looking pretty slick and I very pleased with my first attempt at repainting. I will post a pic or two when it's done. ;-)
I am not sure about making an alpha channel for it though as it gets a bit too shiny for my liking and for some strange reason all the black parts (top of nose, tyres, etc.) are also turning out super shiny which looks appalling. :@
Larry
A nice model indeed, but would we expect anything less from Mr Conrad?

A Slovenian Air Force paint would be very welcome (PC-9, albeit). The camo scheme is just lovely.
Sorry but the PC-7 is a classic it was introduction in 1978 which I think make's it a classic and its older then are BAe 146

is there a SAAF livery?
James :dance:
RIP Steve Irwin

You was the best there ever was.

Did i hear Slovenia?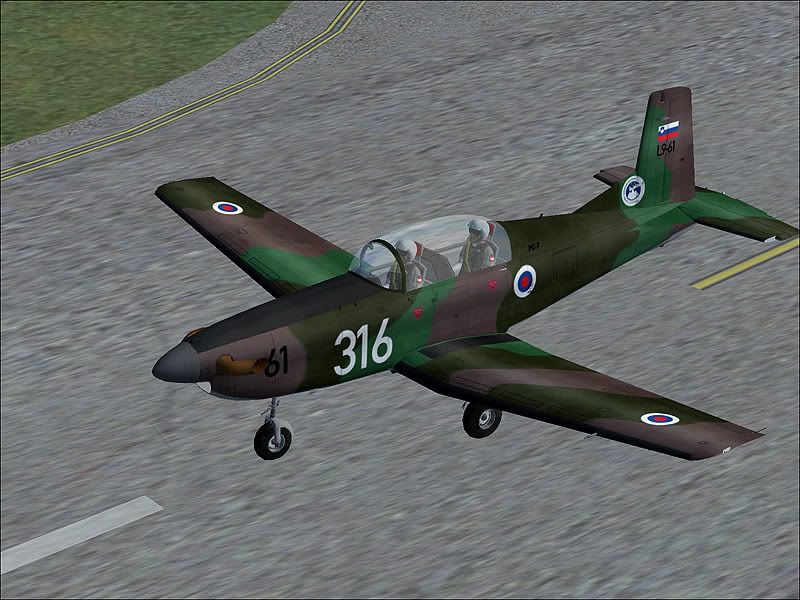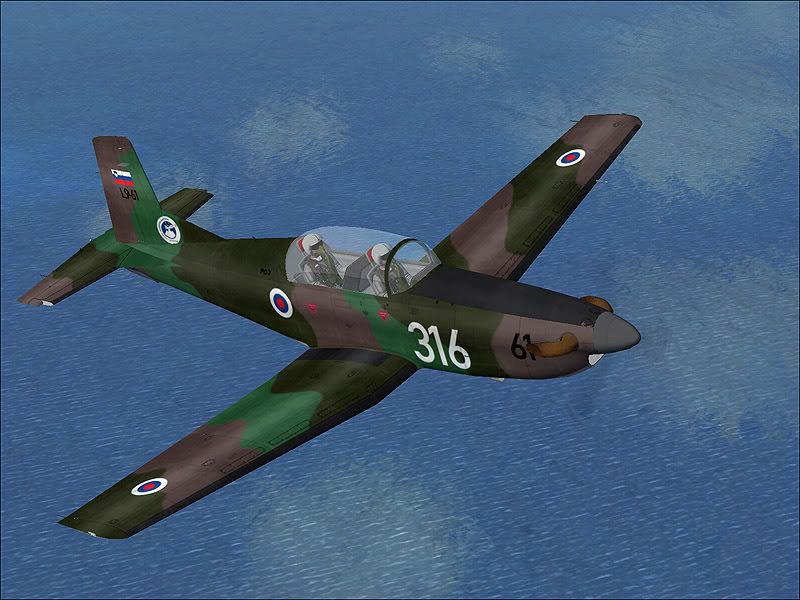 Looks nice in Iraqi colors too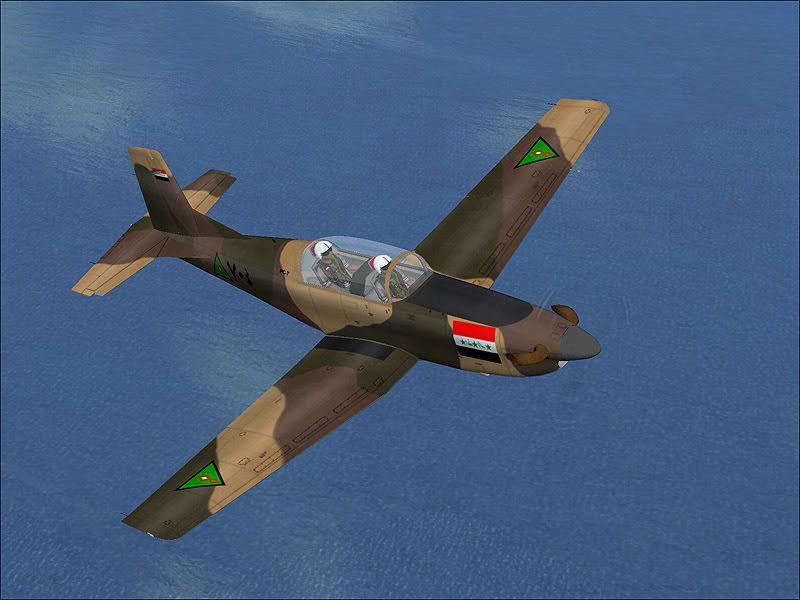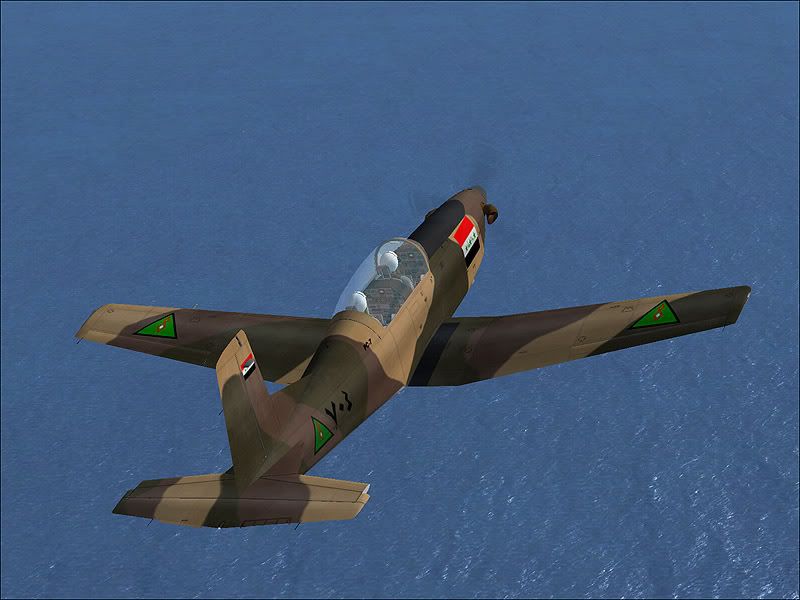 Concorde

Posts: 1307
Joined: 12 Oct 2007, 19:39
Location: SW Ontario, Canada (ex-pat Brit)
Hmmm....I would love to see some shots of the belly on those planes as I am having some major problems trying the get more than one colour to play nicely together on the flat underside area just fore and aft of the wings. It seems like there is a UV map problem in there and things get 'stretched' and distorted and I can't seem to solve the problem. I have spent more than 10 hours on two separate repaints trying to get it to work with no luck. I am almost finished a third repaint that will be absolutely stunning (even if I do say so myself) but it is going to sit unfinished if I can't solve this belly paint problem as it has a 'fancy' underside that I just cannot paint at the moment. :@

Larry
Here you go: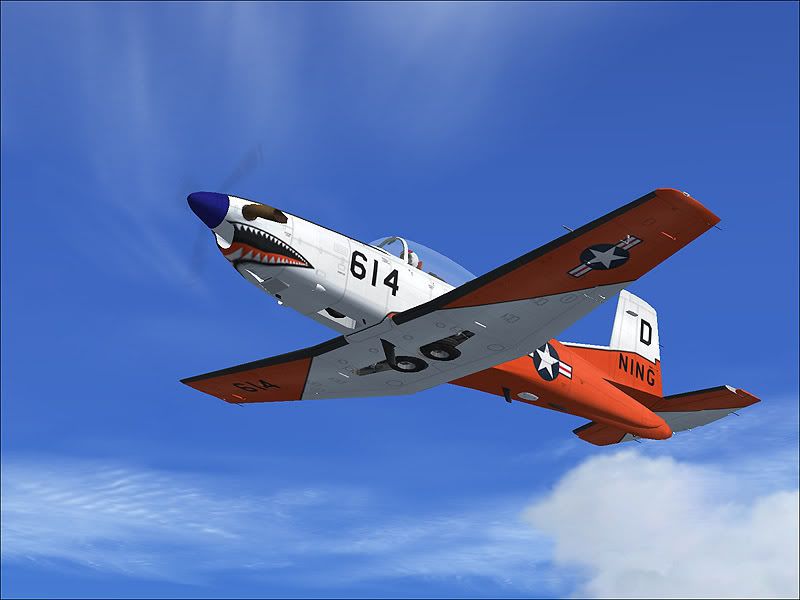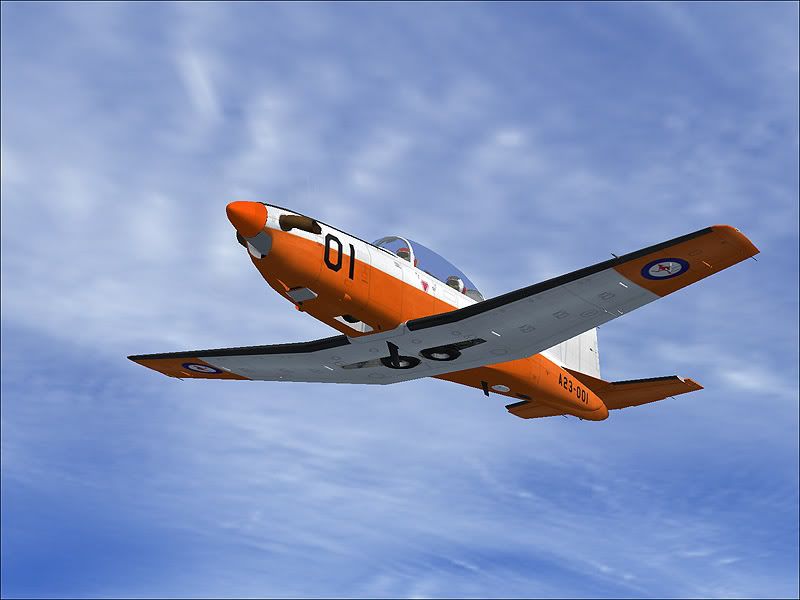 With flaps and gear extended: