Moderators: The Ministry, Guru's
Donation sent. We absolutely must keep her flying. We're heading into a time of cuts and austerity, so lets keep something going that lifts our spirits and reminds us of what we once were as a nation.
Pip Pip !

Concorde

Posts: 748
Joined: 21 Apr 2006, 19:18
Location: Lancashire, Red Rose County
Contact:
Glad to see her still going, as you can see by my username Im a great fan of this aircraft.

Stood under the fuselage of one as a 15 year old air cadet back in 2000 and was hooked there and then by such an imposing shape.
The Ministry
Posts: 27180
Joined: 29 Jan 2005, 00:53
Location: On the other side of the wall
Garry

"In the world of virtual reality things are not always what they seem."
Best fifty quid I've spent this year.

Pip Pip !

The Ministry
Posts: 30457
Joined: 17 Jun 2004, 20:46
Location: Pelsall, West Mids, UK
Contact:
Think 'well'.. as in 'wishing well'.. or donkey and strawberry.. or drain, as in hole in the ground that stuff goes down never to appear again. Sri to all who have donated.. again and again but I find this sort of repeated plea becoming rather abrasive, inflamatory.. call it what you like. 558 hasn't been
saved
however you look at it. It's stay of execution has been prolonged.. no more. The amount of cash raised was suppose to give her a 'flying life' of some 10 years and no more yet every year.. we get the same 'Please give us money or we'll never fly again'.
I really do apologise for being so negative but I see this as throwing good money after bad. It's been one of those days I suppose

Hope you get to see some of your £50 in the air Paul (and the others who've donated again). Who's gonna bet me a sizeable sum that we don't get the same this time next year (or before or slightly after)

ATB
DaveB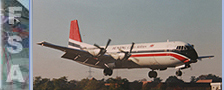 Old sailors never die.. they just smell that way!
The Ministry
Posts: 2822
Joined: 26 Jun 2004, 08:54
Location: Runway 26 at RAF Tangmere....most Mondays!
I agree with Dave, this project was not really thought through. What they need is something like a corporate sponsor in the big league, somone like Red Bull for example, who is happy to cover the big costs and use public donations for the little stuff.

I have not seen 558 since she flew again (although have seen Vulcan's a plenty when they were in service) and thought that apart from the shape and the fact that she was a 'Classic' product of our brief period of being an main aviation producing country, the aircraft does not have the signifigance of say the Lanc or Spit and Hurri. Now the Lightnings are silent in SA, maybe it is soon time to put this expensive hardware to rest too. Without megabucks, time does not stand still.
ATB Trev
The Ministry
Posts: 27180
Joined: 29 Jan 2005, 00:53
Location: On the other side of the wall
Me too

Big boys playing with an expensive toy and demanding everyone else pays for it.

To be brutally honest I was dissapointed they were bailed out yet again

If there are people with that much spare cash then they should spend it on a more worthy cause

Roll on next year.....same story.
Garry

"In the world of virtual reality things are not always what they seem."
As a young RAF Boy Entrant at 4 School of Technical Training, St Athan in the early 60's, I have fond memories of using any available 'orifice' of the scrap Vulcans/Victors/Valients waiting disposal, to hide away during our weekly, much hated, cross country runs.

I also remember standing and watching in awe as these fantastic aircraft landed or took off from St Athan before or after completing their major overhauls.

Throughout the rest of my service carreer, I always hoped that I might be posted to an operational Vulcan squadron, but never was, although I was lucky enough to spend my time with those other icons, the Shackleton and the Hunter.

The Vulcan was/is an icon, and in my opinion every effort should be made to keep her airworthy for as long as possible, whether that be one year or ten years.

It would be nice if she was taken over by the RAF memorial flight as has been mooted, although this is highly unlikely, and yes, the VTTS trust will be back for more money I'm sure. I for one will be digging into my pockets for any spare cash when they do.
It's better to break ground and fly into the wind, than to break wind and fly into the ground
RAF & Allied Air forces WWII Monument

They should load it up with ordinance and rent it out to the RAF for some "grid square removal" missions in the 'Stan.

Error 482: Somebody shot the server with a 12 gauge.