Moderators: The Ministry, Guru's
The Gurus
Posts: 6209
Joined: 23 Jun 2004, 18:05
Location: in a deep, dark hole somewhere.
Contact:
Happy birthday to Tonks who hits the half century today.
Have a good day Andy, hope all is well.

Dave G.

Red Arrows

Posts: 7064
Joined: 14 Sep 2011, 03:46
Location: Central Victorian Goldfields, Australia
Contact:
Many Happy Returns, Tonks!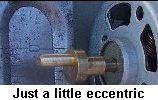 Cheers, Mike.
http://airspeedsflyingvisit.threadwings ... index.html
Happy Birthday Andy, and may you celebrate many more


Graham
Many Happy Returns, and all good wishes for the future
Many Happy Returns Andy,

Roger.
Better to remain silent and be thought a fool than to speak out and remove all doubt.
A very happy birthday to you Andy!


Brian
All the best Andy, have a great day.


Robbie.
Vintage Pair

Posts: 2415
Joined: 10 Jul 2009, 08:33
Location: 15 miles S W of Leonardo country
Many Happy returns Andy, & wishing you all the best for the years ahead.
Keith
Concorde

Posts: 1329
Joined: 12 Oct 2007, 19:39
Location: SW Ontario, Canada (ex-pat Brit)
Congrats on the Big 5-0 Andy and all the best for the future.
I managed 25 today but that was years married not years on the planet!

I'll share one of these with ya.

Larry
Vintage Pair

Posts: 2059
Joined: 28 Jun 2004, 20:45
Location: San Francsico, California
Happy 50th Andy

Hope the day is special for you
Joe Cusick,

I am serious, and don't call me Shirley.