Moderators: The Ministry, Guru's
The Gurus
Posts: 6209
Joined: 23 Jun 2004, 18:05
Location: in a deep, dark hole somewhere.
Contact:
Birthday greetings to Bridon Bear, who is 68 today!
Happy birthday Brian, have a good day.

Dave G.

Happy Birthday Brian, and may you celebrate many more


Graham
Vintage Pair

Posts: 2415
Joined: 10 Jul 2009, 08:33
Location: 15 miles S W of Leonardo country
Happy Birthday Brian & wishing you many more to come

Keith
Happy Birthday, Brian.

https://rationalwiki.org
Pip Pip !

Happy birthday Brian!


Brian
Happy Birthday Brian,

Roger.
Better to remain silent and be thought a fool than to speak out and remove all doubt.
Red Arrows

Posts: 7064
Joined: 14 Sep 2011, 03:46
Location: Central Victorian Goldfields, Australia
Contact:
Many Happy Returns, Brian!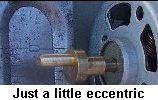 Cheers, Mike.
http://airspeedsflyingvisit.threadwings ... index.html
All the best mate!

Meteor

Posts: 90
Joined: 03 Sep 2016, 18:51
What they all said ^
Jim