Moderators: The Ministry, Guru's
From me as well, all the best to all on here,

Roger
Better to remain silent and be thought a fool than to speak out and remove all doubt.
Happy New Year everyone!


Brian
Happy New Year to you and to all other CBFS members. Now where is that bottle of Scotch. I will raise a glass to absent friends

Simon

'The trouble with the speed of light is it gets here too early in the morning!' Alfred. E. Neuman
The Gurus
Posts: 6209
Joined: 23 Jun 2004, 18:05
Location: in a deep, dark hole somewhere.
Contact:
Happy New Year everybody.

Dave G.

Have a Happy, Healthy and Prosperous New Year to everyone on here and their friends and family. Lovely card, Graham, thanks!

Nigel²
Red Arrows

Posts: 7064
Joined: 14 Sep 2011, 03:46
Location: Central Victorian Goldfields, Australia
Contact:
Thank you Graham, nice one!
And Happy New Year to All!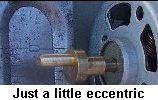 Cheers, Mike.
http://airspeedsflyingvisit.threadwings ... index.html
Happy New Year..
In memorandum to our friends who've passed on.
Cheers


A very happy and healthy New Year to you all. The card is beautiful Graham. I have to confess that although I can clearly see Edinburgh castle about 4 miles from here, I was in bed asleep by about 11pm, thereby maintaining my reputation as a grump!
Best wishes to everyone and especially to DaveB's family.

EricT
Now at the age where I know I like girls but can't remember why!
Lang may yer lum reek.