Moderators: The Ministry, Guru's
Red Arrows

Posts: 6669
Joined: 14 Sep 2011, 03:46
Location: Central Victorian Goldfields, Australia
Contact:



They don't write 'em like that any more!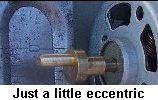 Cheers, Mike.
http://airspeedsflyingvisit.threadwings ... index.html
Here's one I thought you might enjoy seeing, Graham.

Brian
Thanbks Brian. Just love those A4's.

Into traction engines now.


Graham
Thanks Graham!

Here's an interesting puzzle which popped up yesterday.

Brian
Thanks Graham!

Brian
'Paul K' please report to the bridge immediately.
Brian