Moderators: The Ministry, Guru's
Red Arrows

Posts: 6681
Joined: 14 Sep 2011, 03:46
Location: Central Victorian Goldfields, Australia
Contact:
Walked into a local shop today, and could not resist taking this: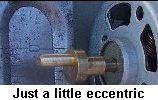 Cheers, Mike.
http://airspeedsflyingvisit.threadwings ... index.html
Concorde

Posts: 1315
Joined: 12 Oct 2007, 19:39
Location: SW Ontario, Canada (ex-pat Brit)
No...fork handles!



Larry
Comet

Posts: 179
Joined: 22 Mar 2006, 22:42
"I don't care how many times they go up-diddly-up-up; they're still gits."


Thanks!
Brian



Brilliant

Eggs' box? Isn't that what the new Microsoft Flight Simulator runs on?
George