Moderators: The Ministry, Guru's
Red Arrows

Posts: 6684
Joined: 14 Sep 2011, 03:46
Location: Central Victorian Goldfields, Australia
Contact:
Many Happy Returns, Andy.

Hope that you can find your way back soon, we miss you.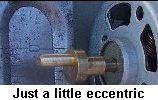 Cheers, Mike.
http://airspeedsflyingvisit.threadwings ... index.html
Happy Birthday Andy!


It would definitely be nice if he popped by to say hello.

Brian
Happy Birthday Tonks

Simon

'The trouble with the speed of light is it gets here too early in the morning!' Alfred. E. Neuman
Happy birthday mate


Happy Birthday, Tonks. Hope all is going well for you.

Pip Pip !

Happy Birthday Tonks, would be great to see you pop in again. Hope all is well with you.

Regards
Nigel.
I used to be an optimist but with age I am now a grumpy old pessimist.
Concorde

Posts: 1315
Joined: 12 Oct 2007, 19:39
Location: SW Ontario, Canada (ex-pat Brit)
Have a good one Tonks.

Larry
Happy Birthday Andy.


Many happy returns! (to the bar)

Nev
Happy Birthday Andy!


Nigel²