Moderators: The Ministry, Guru's
On Flight Radar today we have a 146 from ETPS in the Mach loop... would live to see that!

Ben.



---
A bit high to be IN the loop don't you think?
Keith
---

Well spotted!
The FRA bouys from Middlesborough have been up this afternoon over the North Sea and this morning three of those little Partenavia Victors from Liverpool were in a convoy heading up over Dundee
Ben.



---
The RAF were having fun too.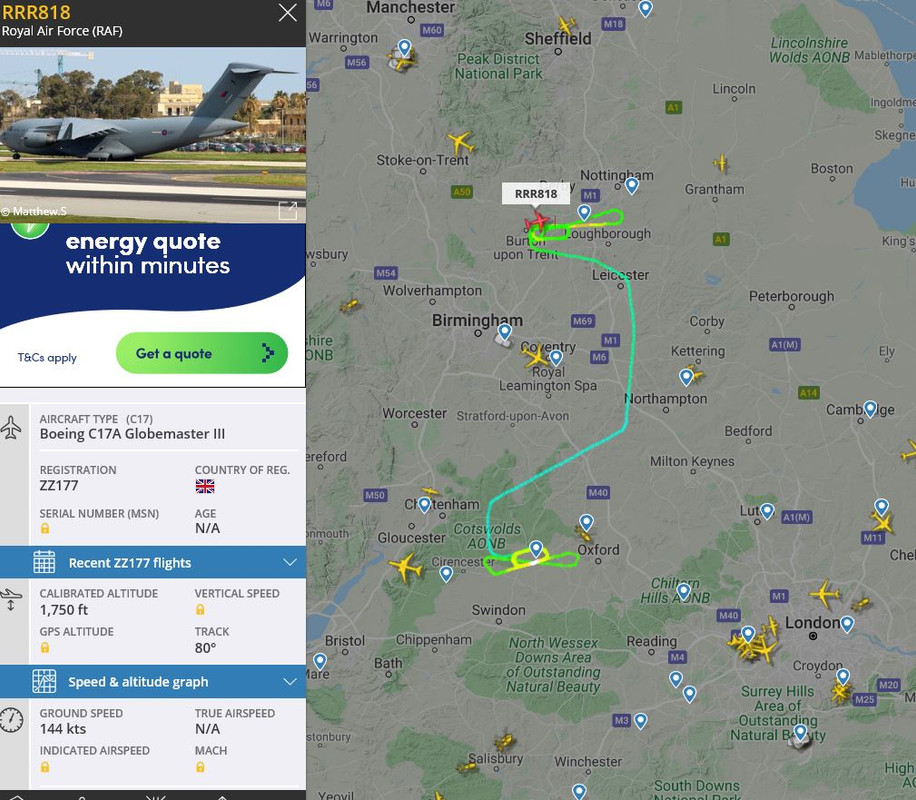 ---
And looks like there are people jumping out of a Skyvan over Brize Norton tonight... not many of them still flying....
Ben.



---
Ben, what are you starting?

When I could be doing something different I now find myself on Flightradar.

This is a strange one, Bioflight, something to do with air pollution?
Regards
Nigel.
I used to be an optimist but with age I am now a grumpy old pessimist.
---
Yes, I've noticed them up and about too. I quite like seeing what's up, and it's much easier to find something a bit different when theres little commercial activity.
I spotted my favourite 146 yesterday, G-LUXE of the FAAM
https://www.faam.ac.uk/the-aircraft/
Ben.



---
Concorde

Posts: 1038
Joined: 27 Jun 2004, 12:03
Location: STN/EGSS
A bird in the hand will probably sh!t on your wrist.
---
Definitely a site to watch Chris, one military a/c callsign is/was Brutal 32 and he is/was flying around Beverley as though chasing a none existent bogey but obviously under military radar control.
Thanks for the link.

Regards
Nigel.
I used to be an optimist but with age I am now a grumpy old pessimist.
---
Did anyone notice a Canadian registered A4 Skyhawk on FR24 at about 0730/0800 this morning?. It appeared to have originated in the Netherlands then headed north. It stood out because of its delta shaped icon which I've never seen before.

EricT
Now at the age where I know I like girls but can't remember why!
---