Moderators: The Ministry, Guru's
A council spokesperson said.............the appeal would be "carefully considered".

https://www.bbc.co.uk/news/uk-england-l ... e-53339599
I used to be an optimist but with age I am now a grumpy old pessimist.
It boggles the mind, doesn't it?

Brian
Red Arrows

Posts: 6773
Joined: 14 Sep 2011, 03:46
Location: Central Victorian Goldfields, Australia
Contact:
I can imagine this character walking along a traffic jam.....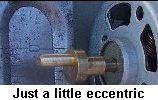 Cheers, Mike.
http://airspeedsflyingvisit.threadwings ... index.html
A polite description of some of them Is anal apertures.

EricT
Now at the age where I know I like girls but can't remember why!
Trouble is the virus has flushed out so many jobsworths!
Concorde

Posts: 1712
Joined: 26 Jun 2004, 13:29
Location: Willingham, Cambridge UK.
Contact:
What next, aircraft on stand?

Kevin
Stratospheric traces, of our transitory flight.
Trails of condensation, held in narrow paths of white...