Moderators: The Ministry, Guru's
Now at the age where I know I like girls but can't remember why!
Yep, virgin are doing the same. The BA777-200's are all on their way out, and their entire A380 fleet is sitting at Marcel Dassault airfield in France.
Ben.



Guess BA are going to lose millions on taking out the 747's basically through not being able to find a buyer for the remaining fleet or even if they do, they will probably sell at a much lower price than originally intended.

Regards
Nigel.
I used to be an optimist but with age I am now a grumpy old pessimist.
Not just BA and not just 747-400's Nigel. All over the world there are literally hundreds of aircraft being laid up. Loads of leased 737s and A320's with relatively low hours. Many of the 777s will be converted to freighters to replace MD11s etc.
Ben.



Thanks for the update Ben, had not been keeping much of an eye or ear out on what is happening aviation wise, but one thing for sure is that I don't expect it to rebound back in a big way.

Regards
Nigel.
I used to be an optimist but with age I am now a grumpy old pessimist.
Ben.



Red Arrows

Posts: 6773
Joined: 14 Sep 2011, 03:46
Location: Central Victorian Goldfields, Australia
Contact:
The Qantas fleet has already gone.
The very last did farewell flyovers in 3 States, then flew to the USA.
I see from checking out the above links, that BA is run by an international group.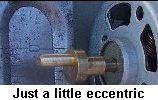 Cheers, Mike.
http://airspeedsflyingvisit.threadwings ... index.html
I watched KLM's last 747 approach into Amsterdam on Flightradar, back before the plague. Very sad to see them going - I think they were as influential on air travel as the DC-3 was. A classic aircraft.
Pip Pip !

Comet

Posts: 181
Joined: 29 Jun 2004, 18:01
Location: Sipson AKA EGLL 27R (if they get their way......)
Very sad news indeed on all counts, so many future classics going out without fanare, I suppose we must honour them with flights in Sim.

As to disposals and ferry flights, are there any sites that publish either official info or reliable gen regarding the movement of these aircraft. As i live only a 5 minute walk from Heathrows north runway and I know that there are around 7 747-400 still there I would love to get some last images of them when they depart!

Thanks for any help
Cheers
Andy
They did give a million monkeys a million typewriters. They call it the internet!


They're almost all at St.Athan and Cardiff already. Only 1 left at Heathrow.
Ben.