Moderators: The Ministry, Guru's
I guess what happens in Vegas (hopefully) stays in Vegas.

Brian
Red Arrows

Posts: 6690
Joined: 14 Sep 2011, 03:46
Location: Central Victorian Goldfields, Australia
Contact:
She's holding a roll of toilet paper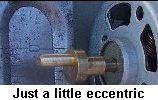 Cheers, Mike.
http://airspeedsflyingvisit.threadwings ... index.html
Concorde

Posts: 1315
Joined: 12 Oct 2007, 19:39
Location: SW Ontario, Canada (ex-pat Brit)
That's to mop up the......oh, never mind!



Larry