Moderators: The Ministry, Guru's
Get noticed by Hollywood. Think I will stick to flight simming......Much safer!!

https://www.bbc.co.uk/news/av/uk-englan ... x-54561179
Regards
Nigel.
I used to be an optimist but with age I am now a grumpy old pessimist.
I'm with you Nigel. There's no danger of me "imitating" it.


Graham

Fortunately, I am way too old to even imagine doing anything like that - even in my dreams!
Nigel²
Red Arrows

Posts: 6875
Joined: 14 Sep 2011, 03:46
Location: Central Victorian Goldfields, Australia
Contact:
Me too, I'll leave that to the youngsters; it was bad enough watching them.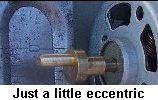 Cheers, Mike.
http://airspeedsflyingvisit.threadwings ... index.html
FTFAGOS
Simon

'The trouble with the speed of light is it gets here too early in the morning!' Alfred. E. Neuman
I'm with Simon on that.


Allan
Couldn't have put it better myself.
Cheers

Dave M(oly)
No thanks. One day your luck will eventually run out. Remember the tightrope walker Karl Wallenda of 'The Flying Wallendas'? 73 years old and he had played the tightrope game for most of his life. One little slip in 1978 and it was goodbye Karl.

Brian