Moderators: The Ministry, Guru's
I'm huge advocate of that last one Graham

Ben.






Some Crackers there Graham

EricT
Now at the age where I know I like girls but can't remember why!
The poor old Beetle. Wasn't there a comedian who used to say " I like beefy birds"?
We've got a SKY Q box with a voice command remote control, but it wont do "switch off" You have to push buttons and waste energy.




Thanks Graham for a good laugh!
Nigel²
Red Arrows

Posts: 7243
Joined: 14 Sep 2011, 03:46
Location: Central Victorian Goldfields, Australia
Contact:
Thanks Graham, always here to cheer us up.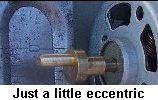 Cheers, Mike.
http://airspeedsflyingvisit.threadwings ... index.html