Moderators: The Ministry, Guru's
Red Arrows

Posts: 6689
Joined: 14 Sep 2011, 03:46
Location: Central Victorian Goldfields, Australia
Contact:
Many Happy Returns, Mike!
May the Sun shine on Whitby for you today.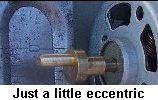 Cheers, Mike.
http://airspeedsflyingvisit.threadwings ... index.html
The Gurus
Posts: 6165
Joined: 23 Jun 2004, 18:05
Location: in a deep, dark hole somewhere.
Contact:
Happy birthday Mike.

Dave G.

Many happy returns (to the bar)

Nev
Happy Birthday Harry.



Regards
Nigel.
I used to be an optimist but with age I am now a grumpy old pessimist.
Happy Birthday. Know what I mean 'arry?


Happy Birthday Mike!


Nigel²
Happy Birthday Mike!


Brian
Mike. Belated Happy Birthday. I have been away till today.

Simon

'The trouble with the speed of light is it gets here too early in the morning!' Alfred. E. Neuman