Moderators: The Ministry, Guru's
Hello Brian,

I don't know if this was meant to be a curiosity or amusing or what but here in the banana republic of Australia the import of pork goods is a massive problem. Per the article "bologna can't be carried across the border because it could introduce foreign animal diseases to the domestic pork industry". If it happened, it could wipe out our entire pork production industry just beacuse some numpty brought in diseased products. It's a very serious problem here because travellers from Asia love to bring all sorts of cr*p with them. So, sorry if my response offends, but this isn't funny.

Paul
It's not a 'bird', it's an aeroplane or an aircraft

I was just amazed that this event made for nationwide news.

Brian
My apologies Brian, I came on a bit too strong there - was a bit tired and emotional

This
is what it means down here. And the border people are serious about it:
"Vietnamese woman has visa cancelled for trying to bring pork into Australia".
Our little industry is worth $5.3bn so what would it be in the States? I'm not surprised it is national news.....
U.S. seizes 1 million pounds of pork from China on swine fever concerns
. It's a pretty nasty thing by all accounts....
Hong Kong culls 6,000 pigs after African swine fever found
Philippines culls 7,000 pigs in outbreak of African swine fever
The big thing I guess is that at the moment it's uncurable

If folk enjoy a bit of pork, looking at some of the predictions, enjoy it while you can afford it!!
It's not a 'bird', it's an aeroplane or an aircraft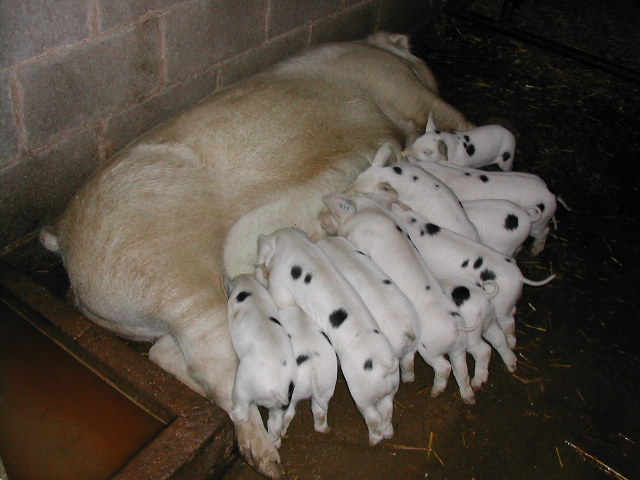 How could you not love these little guys.
We lived on a farm for 16 years, and bred Gloucester Old Spots. They were an endangered breed at the time.
On a serious note. The last outbreak of Foot & Mouth in the UK started on a pig farm. It spread to cattle. So it makes sense to be vigilant.
Den.
Concorde

Posts: 1714
Joined: 26 Jun 2004, 13:29
Location: Willingham, Cambridge UK.
Contact:
Some years ago, I went on a visit to a farm somewhere in Warwickshire (it was something like a cross between a worknig farm and a small zoo). On entry, you could buy bags of food for particular animals. I love piggies (I think they're so cute), so I bought a bag of feed for them (although I'm sure they'll eat just about anything). I was expecting to have the cute little piggies eating out of my hand but soon changed my mind when I saw them. I kid you not, they were the best part of 4ft tall at the shoulder and they were ramming the metal gate of their pen. No was was my hand going anywhere near these guys. I threw the food to the back of the pen and we moved on. The next animal we came across was a huge white bull with long horns. I approached it very cautiosly only to find it was as gentle as a lamb and loved the attention we gave it.

Kevin
Stratospheric traces, of our transitory flight.
Trails of condensation, held in narrow paths of white...